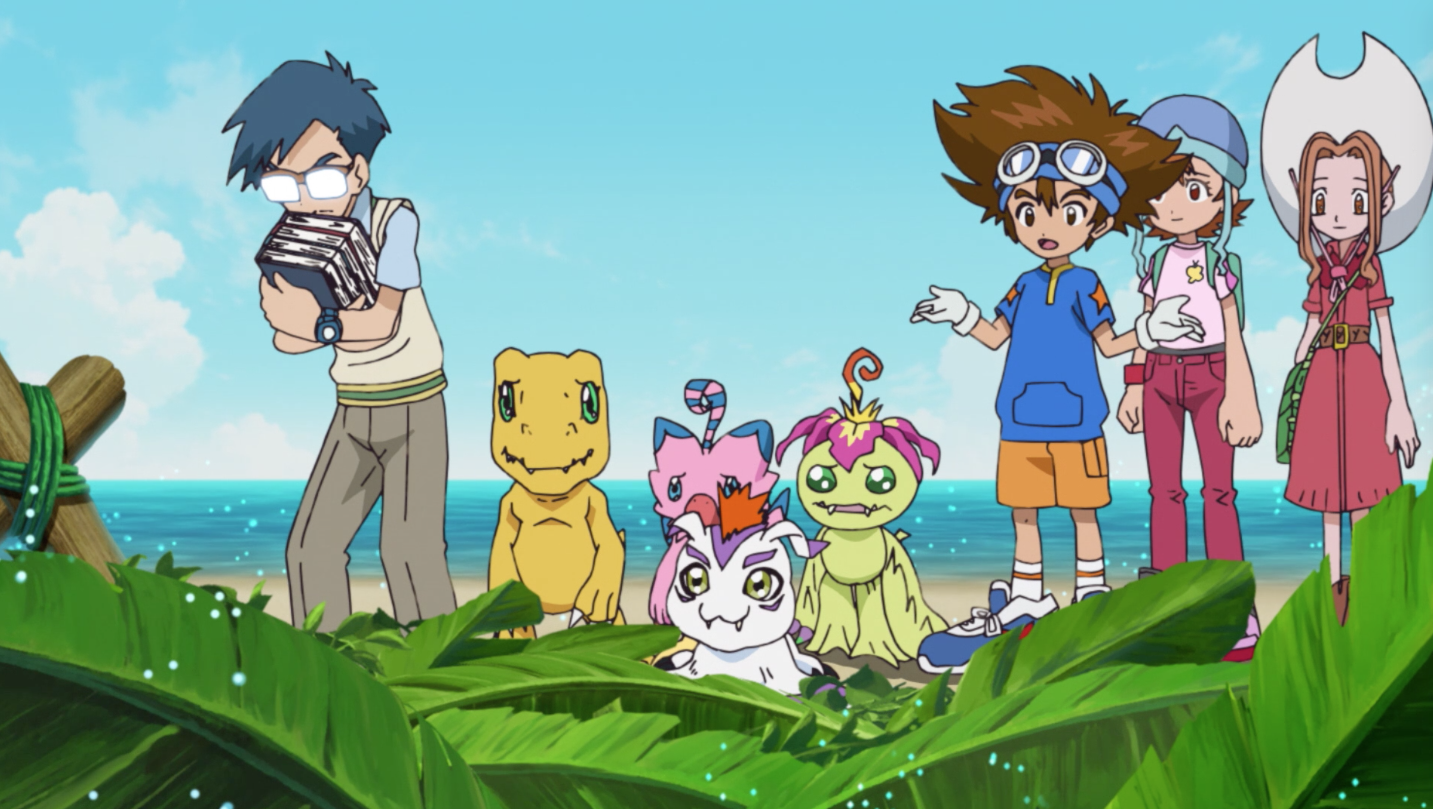 review
By Jeff Ruberg • 6 min read •
Jul 25, 2020
For weeks I've worried that Adventure 2020 appeared to be smoothing down many of the flaws that helped make the original show's cast so memorable and iconic. Was this just an alternative approach to timing their character development, or an early sign of a fundamental shift in the priorities for the reboot as a whole? As if in answer to our prayers for character flaws, the glorious nervous wreck known as Joe Kido has tripped and stumbled onto the scene this week. The larger question about the series' overall approach to characterization is still very much up in the air, but — now that Joe's anxieties dramatically tore down the hut of my early expectations — I can start to feel the breeze of change.
After a quick snack break, Taichi and Sora's scouting party is interrupted when a reject from Splatoon attacks Birdramon because she's neither a kid nor a squid. Undisputed Best Boy Gomamon saves them from the water, and offers them a wet blanket known as Joe Kido instead. Once he realizes there are no adults around and that he might not be able to get back to Tokyo to take his tests, Joe becomes his own big bad wolf and blows his own hut down.
Taichi shows off his skills as a tactician with a strategy to take down Gesomon; thankfully Koshiro is still stuck flying through empty blue backgrounds and wasn't around to say they could just walk 100 feet down the beach to go around Gesomon. Gomamon gets hurt while acting as bait, Joe rushes in to save him, and the two finally have the difficult relationship conversation they've been avoiding for weeks. Greymon and Togemon reveal they suck at Splatoon, until Gomamon digivolves into Ikkakumon and wins the day with a homing missile. Now that Gomamon has evolved from best boy to best boat, they all set off for Cloud Continent, minus Joe who everyone gleefully laughs at once he falls off the boat.
Joe's shift from an annoyingly responsible, upright adult figure to a helpless ball of anxiety is definitely the reboot's most significant character modification so far. After weeks of concern that these characters were too perfect, it's easy to feel like the show has overcorrected in the other extreme, by heaping an entire cast's worth of flaws and anxieties onto one helpless Joe Kido. But, on closer examination, I think this vastly different Joe is just the natural result of the same old Joe we're used to getting thrown into a vastly different situation. In Adventure 99, Joe started off the show with a built-in responsibility; before the kids got sent to the Digital World, he was the oldest in the camp group and was responsible for their well-being. Once they got isekai'd, it was natural that Joe just continued his current responsibility in their new, more extreme environment. Adventure 2020's Joe is following the same pattern, except that this reboot caught him a couple days later and in the midst of a different type of responsibility.
Where some other characters initially had fraught relationships with their crests' attribute (I'm looking at you, Yamato and Sora), Joe's relationship with "reliability" has always been a bit more complicated. In Adventure 99, Joe already starts off the show as a paragon of reliability/responsibility/faithfulness. He was a senpai so painfully responsible that viewers look back on the original show and think he was a counselor instead of a camper. He only really starts to struggle when he has to deal with navigating multiple responsibilities, especially when they contradict each other. Should he prioritize Takeru's safety by leaving him with his mom, or prioritize Tokyo's safety by bringing him into battle? Should he irresponsibly rush back in to the Digital World if that's the only way to responsibly save both worlds? Should he drop the years of work he's put towards getting into the best college or let his friends get hurt if they fight without him? Joe's moments of self-realization aren't about learning to take on responsibility, but about learning to balance multiple responsibilities and navigating their complexities. He comes into his own when he learns to value and prioritize responsibilities according to his own inner voice, and not according to what society has always told him.
In this episode, Joe has to juggle his summertime studying responsibility with his newfound responsibility as Gomamon's partner1. The new evolutions in the past couple episodes have felt a little thin and formulaic — they basically all boil down to a Digimon in danger and a partner reaching out to show how much they care — so this episode's evolution felt fresh and new. Joe does rush out to protect Gomamon when he's injured, but the evolution isn't a shonen action moment; it's the culmination of a heartfelt conversation that resolves a tender and realistic emotional divide. Joe's "Weren't you disappointed? To find out you were waiting for a human like me?" line in particular hit me really hard.
This episode took another hit animation-wise, but even so we got a couple good moments with Greymon and Togemon. Who knows how things will shake out over the course of the season, but it does appear like the animators will be pouring lots of love into certain characters (Greymon, Garurumon, Togemon) and the bare minimum to make movement for other characters (Birdramon, Ikkakumon). Hopefully this is indicative more of these specific character models, not each kids' popularity, and we see a shakeup once the Digimon evolve to higher forms with different character models.
Overall, this was a pretty solid, fun episodic character intro. I wasn't blown away by anything, but I also wasn't really disappointed by anything either. Joe's emotional struggle felt very earnest, and added a lot of character to this episode, both in terms of fun mood and thoughtful conversation. If this is what a standard, middle-of-the-road Adventure 2020 episode is going to look like, we're in good hands.
Rating: ★★★½☆
Though it's pretty frustrating that Taichi and the others could completely resolve Joe's struggle if they just told him about time dilation. But, on the other hand, that might cause him to spiral out and insist on staying in the Digital World forever so that he can optimize his studying…. ↩
comments powered by

Disqus
The fallen people will invoke the name of the undead Digimon king and when the clock strikes the hour of the beast...